Spring Break Mission Trip- Baton Rouge, LA
Join us as we travel to Baton Rouge for Spring Break and partner with Revive225!
Mission: Revive225 is an urban home repair ministry that is sponsored by First United Methodist Church of Baton Rouge. They help rebuild homes for those affected by the 2016 hurricane season that damaged many people's homes and livelihoods. In addition to aiding in the physical restoration of homes, we will also have the privilege of building meaningful relationships with the homeowners and community through fellowship, worship and the unique culture southern Louisiana has to offer.
Dates: Sunday, March 1st through Saturday, March 7th
Cost: $150 + any meals on the road and day-off activity.
If you need help with the cost, we have scholarships available. Please don't let money be a deciding factor for whether you can go or not!
Please fill out a Scholarship Application
Click the image below to register for this trip!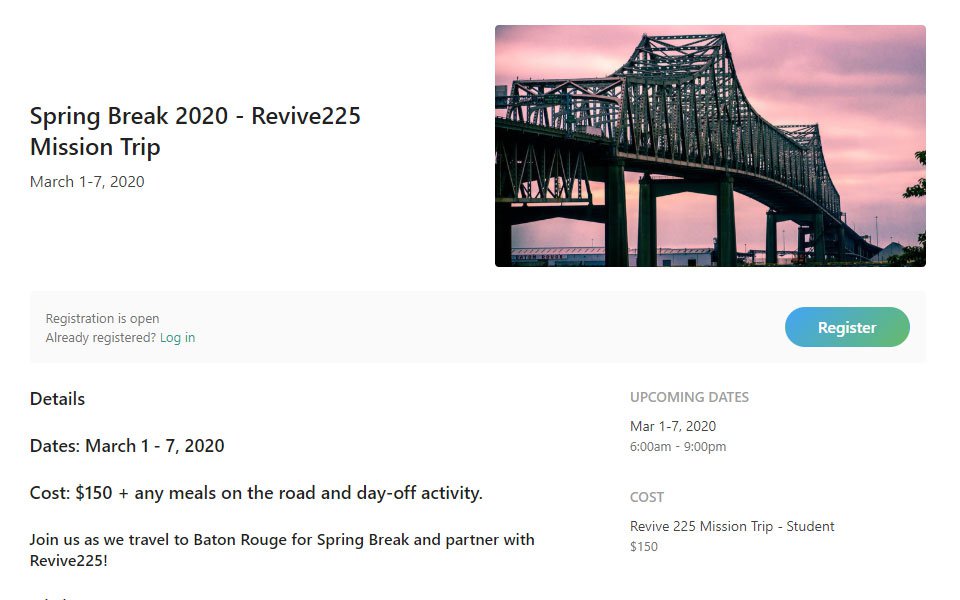 Tentative packing list:
Sleeping bag/air mattress (*Subject to change, we may be sleeping in bunks, TBD)
Pillow and sheets
Toiletries
Work Clothes - BRING AT LEAST ONE PAIR OF LONG PANTS TO WORK IN (Depending on weather/temp)
Closed-toed shoes
Pajamas/Lounging clothes
Clothes for off-day
Jacket(s) - It's supposed to be a little chilly!
Gloves - If you have some
Hat
Sunglasses
Snacks